Mosques Can Broadcast Adhan Every Friday and Throughout Ramadan in NYC
Mayor Adams, NYPD Commissioner Caban Take Historic Step to Embrace Adhan, Muslim Call to Prayer Citywide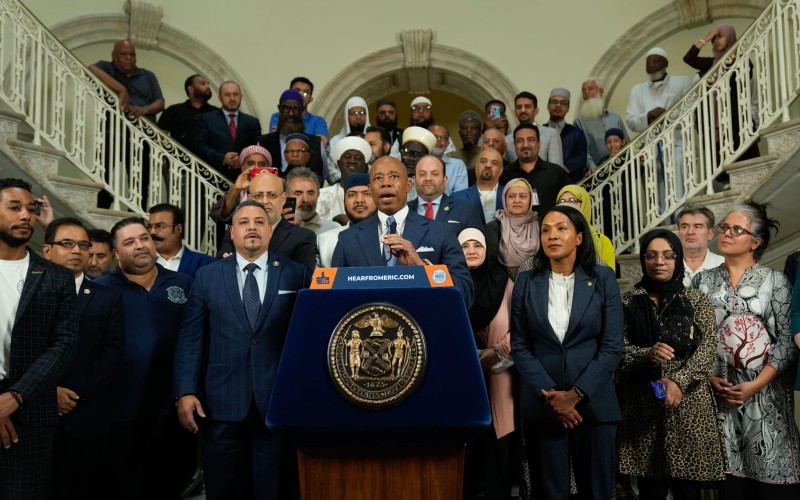 In a groundbreaking move aimed at promoting religious freedom and cultural inclusivity, New York City Mayor Eric Adams and New York City Police Department (NYPD) Commissioner Edward A. Caban announced today a historic initiative that allows mosques and masjids in the city to broadcast the Islamic call to prayer, known as the Adhan, every Friday and throughout the holy month of Ramadan. This monumental decision signifies a significant stride in Mayor Adams' ongoing efforts to create a city where all faiths are respected and where individuals can practice their religious traditions without hindrance.
Addressing a gathering of city officials, religious leaders, and members of the Muslim community, Mayor Adams expressed the importance of this policy change. "For too long, there has been a feeling that our communities were not allowed to amplify their calls to prayer," he said. "Today, we are cutting red tape and saying clearly that mosques and houses of worship are free to amplify their call to prayer on Fridays and during Ramadan without a permit necessary. We want our brothers and sisters of the Muslim faith to know that they are free to live their faith in New York City because, under the law, we will all be treated equally. Our administration is proud to finally get this done."
Commissioner Caban echoed Mayor Adams' sentiments, highlighting the significance of this initiative in promoting diversity and community harmony. "This important work, being led by our NYPD Community Affairs Bureau, is a fundamental service to the ideas of religious freedom, understanding, and sustained peace and prosperity for all," he said. "The NYPD's proud embrace of this idea is at the heart of our robust community outreach, our crime-fighting efforts, and our ongoing public safety mission."
The Adhan, also spelled Azan, is a brief message traditionally broadcast publicly over the speakers or public address systems of mosques, calling members of the Muslim faith to engage in prayer. The new legal guidance from the NYPD clarifies that the call to prayer is permitted in New York City, even in areas subject to sound restrictions.
Under this progressive guidance, mosques and masjids are permitted to broadcast the call to prayer every Friday between 12:30 PM and 1:30 PM, as well as during the sunset prayers every evening throughout the holy month of Ramadan. Ramadan is a significant period of fasting, prayer, reflection, and community observance that falls in the ninth month of the Islamic calendar.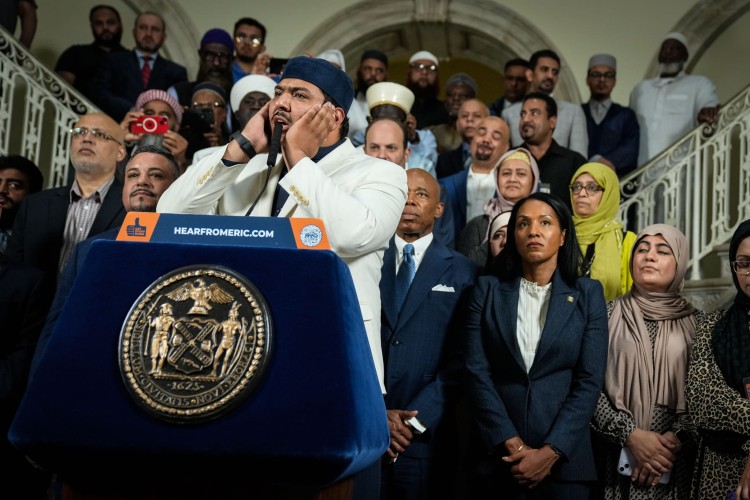 Collaboration will be a key element of implementing this change, with the NYPD Community Affairs Bureau and Muslim faith leaders working closely with local communities, mosques, and masjids to communicate the new guidelines for the Adhan. Ensuring that any sound devices used to broadcast the Adhan comply with appropriate decibel levels and adhere to the city's noise code will be a priority.
Commenting on this historic development, Imam Abdullah Salem of the Muslim Community Center of Brooklyn shared his gratitude: "As someone who grew up in Egypt and hearing the call of prayer my entire life, I truly missed its beauty and peaceful reminder to take a moment and appreciate what you have. I am so grateful to be able to hear it again here in my own city."
Somaia Ferozi, principal of Ideal Islamic School, emphasized the positive impact this change will have on Muslim youth: "As a principal of an Islamic school, I see my students struggling to maintain their identity as Muslims. Many are afraid to share it, and the rest are hesitant. For them to hear the call of prayer in public during our holiest days will affirm to them that this is their city, and they have the right to worship like everyone else."
This historic decision by Mayor Adams and Commissioner Caban reflects the city's commitment to religious freedom, diversity, and the promotion of a harmonious and inclusive society. It stands as a testament to the values of unity, respect, and cultural acceptance that New York City continues to uphold.