Kashmir's Resounding Voice Echoes Through Iconic Times Square
Kashmiri Americans and Allies Unite to Denounce India's Colonialism and Stand with Kashmir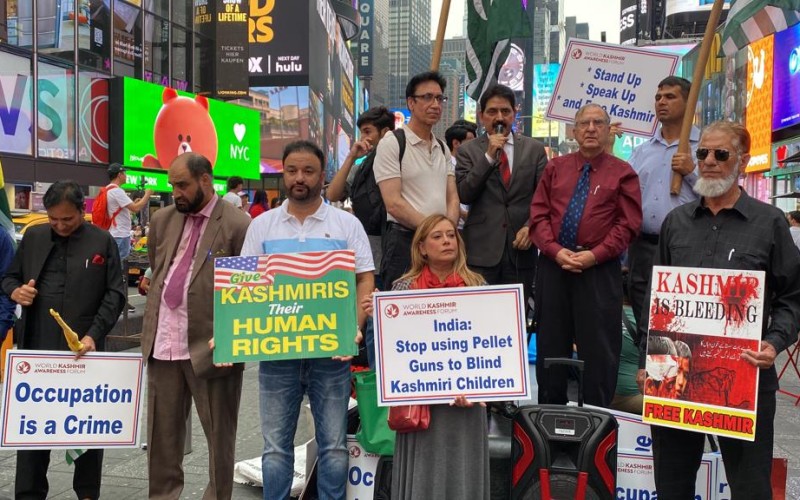 New York City's historic Times Square witnessed a powerful and passionate gathering as Kashmiri Americans, joined by supporters of Kashmir from all walks of life, including women and children, rallied to reject India's settler colonialism and express unwavering solidarity with the people of Kashmir. Saturday, this remarkable demonstration was a collaborative effort among various Kashmiri American diaspora organizations, resonating with a united call for justice.
The attendees raised their voices and held up impactful placards and banners bearing powerful messages such as "Decolonize Kashmir," "UN, Wake Up!", "Release Yasin Malik," "Kashmiris Reject Indian Occupation," "Kashmir Demands Human Rights," and "Kashmir for Kashmiris."
The event was emceed by Sardar Haleem Khan, Chairman of Jammu Kashmir Liberation Front, North America, who delivered a heartfelt appeal to the global community, urging them to pay heed to the suffering endured by the people of occupied Kashmir. Khan passionately emphasized the pivotal role of Mohammad Yasin Malik, an undisputed leader of the Kashmiri political resistance movement, and called for the immediate and unconditional release of all political leaders, including Yasin Malik.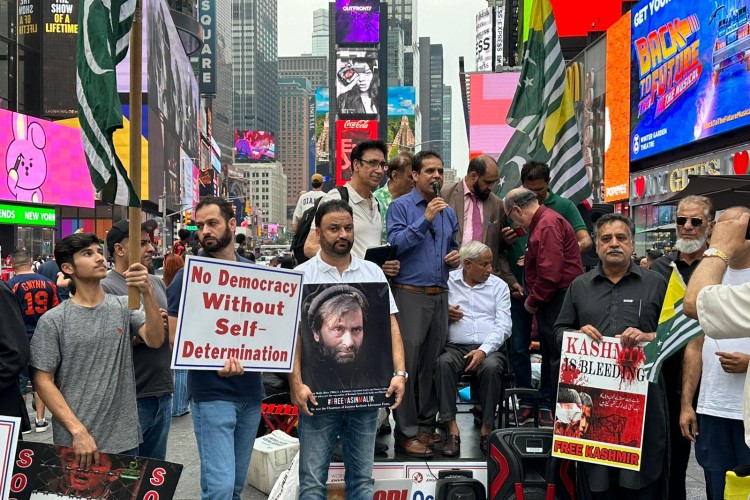 Dr. Ghulam Nabi Fai, Secretary General of the World Kashmir Awareness Forum, spoke out against the dark events of August 5, 2019, when the Indian government, under Prime Minister Narendra Modi, abrogated Article 370 and Article 35A, paving the way for the controversial Domicile Law. Fai called this a modern form of settler colonialism, challenging India's portrayal as the "largest democracy." He cited international media sources that characterized Modi's India as a place where democracy is dwindling, and he underscored the global recognition of the severe human rights issues faced by Kashmiris.
In an interesting turn of events, India's attempt to showcase normalcy in Kashmir by hosting a G20 tourism meeting was met with a significant diplomatic snub. Key nations, including China, Turkey, Saudi Arabia, Oman, and Egypt, boycotted the event, sending a clear message against Indian actions in the region.
Dr. Imtiaz Khan, a professor at George Washington University Medical Center, highlighted the escalating human rights abuses in Indian occupied Kashmir, including youth killings and atrocities against women. He exposed India's policy of altering the demographic makeup of the region, emphasizing the urgency of the situation.
Speakers also shed light on the historic role of leadership, both within and beyond the Kashmiri community, in advocating for Kashmir's right to self-determination. The rally expressed solidarity with the people of Kashmir, demanding an end to their suffering and highlighting the significance of collective efforts to bring attention to the longstanding issue.
As the sun set over Times Square, the voices of solidarity for Kashmir echoed through the heart of New York City, leaving an indelible mark on the bustling crossroads of the world.