Magnet Schools Art Champion Rumaisa Ansary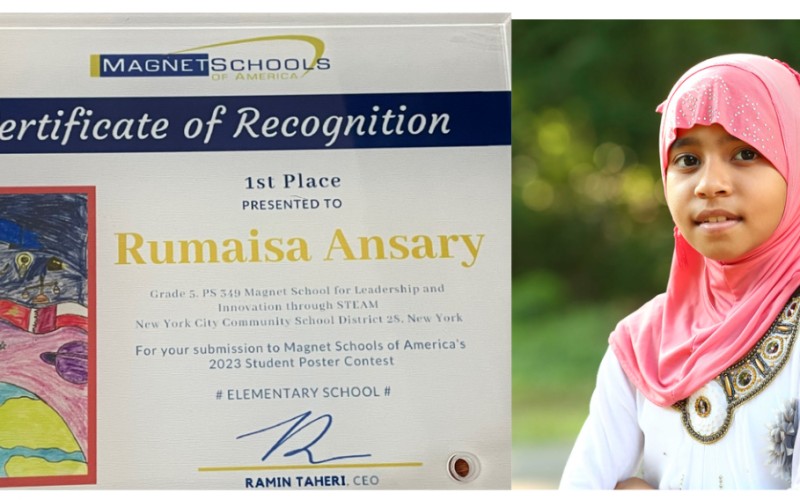 Bangladeshi American Rumaisa Ansary won the Magnet School of America 2023 poster art competition. Rumaisa, a fifth-grade student of PS 349, The Queens School for Leadership and Excellence, became the champion in the national competition held among the students of 3,497 magnet schools in the United States. Rumaisa Ansary is the first Bangladeshi student to win the competition.
In this competition, Caroline Chorey, a fourth-grade student at South Carolina's Leaphart Elementary School STEAM Magnet, become in second position. In contrast, Faya Dheressa, a fourth-grader from Nevada's Roger D. Gehring Academy of Science and Technology, become third.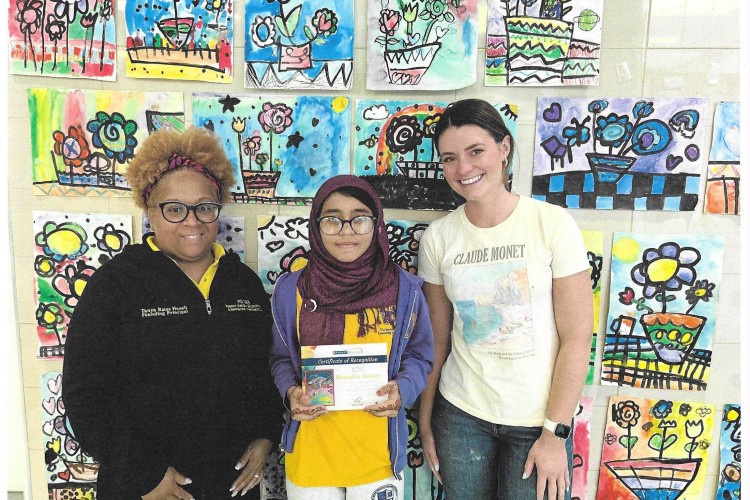 Tanya Bates Howell, principal of her school, accepted the award on Rumaisa's behalf at the annual general conference of Magnet Schools of America held recently in Dallas. Principal Howell and her teachers at PS349 formally presented the award to Rumaisa on Tuesday.
Rumaisa's poster focused on how people of various nationalities and races hold leadership positions in multiple fields in the United States. The student displayed the flag of Bangladesh along with the flags of different countries on that poster. PS 349 has been awarded the award for the first time, and the entire school is in a flood of joy. Rumaisa is grateful to her class teacher, Ms. Iovino, her art teacher, Ms. Emily Webb, and the whole school for supporting her. The school congratulated her parents on the astonishing news.
It should be noted that Rumaisa Ansary is a recital artist. She has already won first place in a poetry recitation competition organized by the Dhaka University Alumni Association of the USA and the Muktadhara Foundation. Rumaisa Ansary was the student leader of PS 349. Rumaisa is already establishing an anti-bullying club in the school. This young student dreams of becoming a civil lawyer to work for the deprived people of society in the future.
Meanwhile, Rumaisa spoke at the protest rally in front of Washington, DC, United Nations headquarters, to raise their voice for Palestine, Kashmir, and Rohingya children. Rumaisa is also taking online classes in mathematics to accelerate free online teaching. Her educational content can be found online at Ansary Academy US.