AMBASSADOR MUHITH CONVEYS OIC'S DEEP CONDEMNATION ON THE BURNING OF HOLY QURAN TO UN SECRETARY-GENERAL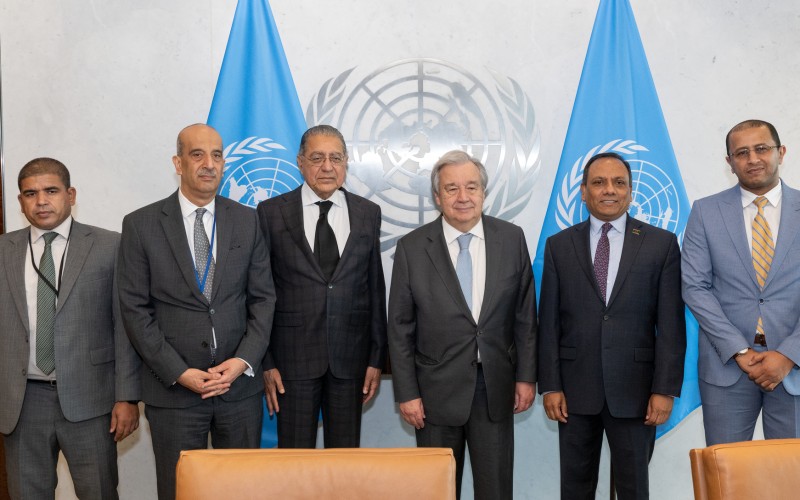 In a resolute move against religious intolerance, Ambassador Muhammad Abdul Muhith, the Permanent Representative of Bangladesh to the United Nations, called on UN Secretary-General António Guterres to express the Organization of Islamic Cooperation's (OIC) profound condemnation of the burning of the Holy Quran. The meeting, held at the UN Headquarters in New York, saw representatives from various OIC countries, including Egypt, the Kingdom of Saudi Arabia, Mauritania, and Pakistan.
Ambassador Muhith strongly denounced the repeated incidents of public Quran burning in certain nations, emphasizing that such acts gravely insult the sacred values of Muslims worldwide. The OIC representative stressed that these reprehensible actions not only inflame the sentiments of Muslims but also run contrary to the principles of freedom of expression, religious tolerance, and individual beliefs. He further warned that failure to take action against such religious hatred might lead to the incitement of violence, potentially destabilizing peace and security in numerous countries.
During the meeting, Ambassador Muhith drew attention to the plight of Rohingya Muslims, who had sought refuge in Bangladesh due to the consequences of religious and ethnic hatred in Myanmar.
In light of these grave concerns, Ambassador Muhith urged the UN Secretary-General to request all member states to enact appropriate legal measures at the national level to combat religious intolerance, including islamophobia, hate speech, and the desecration of religious symbols like the Holy Quran.
In response, UN Secretary-General António Guterres expressed his solidarity with the OIC members and vehemently condemned such heinous acts of religious hatred. He pledged to utilize his role as the UN Secretary-General to support global efforts in preventing the recurrence of such anti-religious actions in the future.
Prior to the meeting with the UN Secretary-General, Ambassador Muhith led a delegation of OIC representatives to meet with the President of the General Assembly, Csaba Kőrösi, on July 14th, and the President of the Security Council for the month of July, Ambassador Dame Barbara Woodward, on July 20th. During these meetings, they conveyed similar concerns about the burning of the Holy Quran and religious intolerance.
The OIC's firm stance against religious desecration and hatred demonstrates the organization's commitment to upholding the values of respect, peace, and understanding among different religious communities globally. As the international community unites against these acts of intolerance, hopes remain high for a more inclusive and harmonious future for all.